NEWS RELEASE - North Vancouver Shipyard Changes Hands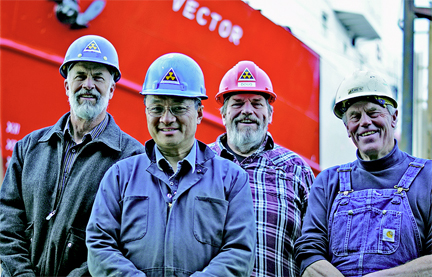 As of February 1, for the first time in 64 years, it's a Ko and not a McLaren who owns and runs Allied Shipbuilders of North Vancouver, BC. It's British Columbia's second-largest privately owned commercial shipyard company, employing 120 people.
Brothers Jim McLaren, 66, and Malcolm McLaren, 58, have sold their majority ownership in the veteran shipbuilding and ship-repair company to Chuck Ko, the company's Vice-President of Operations. The transaction occurred Wednesday after the trio quietly completed several years of transition preparation to ensure the stability of the firm. (Photo, left to right: Malcolm McLaren, Chuck Ko, Doug McLaren and Jim McLaren.)
"Chuck has been with the firm for 31 years," says Malcolm, the outgoing president of Allied. "He trained directly under my father, who founded Allied in 1948, and Chuck's had an active role in every major project we've handled since 1980. My father believed a shipbuilding and repair operation should be run by somebody with a lot of hands-on experience, and we don't want that to change. Plus, Chuck is family to us."
Ko, 50, adds, "With the $8 billion federal shipbuilding program recently awarded in British Columbia, this is a great time for our industry. BC's shipyards will have great opportunities, and Allied is poised to take advantage of this historic decision."
Malcolm and Jim announced the leadership transition alongside Chuck as one of their last acts before stepping away, each for different reasons. Jim is retiring from his position as Shipyard Manager to spend more time with his wife and sailboat, while Malcolm is leaving for health reasons following his diagnosis of Parkinson's disease seven years ago.
"I began thinking seriously about the ownership of the company soon after my diagnosis," Malcolm explains. "At first, I wondered whether it might be best to sell the operation to a big competitor. But then Chuck said, 'Why don't you sell it to me?', and I thought, 'Well, there's a good idea.'" Malcolm and Jim worked closely with Ko to plot a transition course that would ensure the continued success of the firm.
There are still McLarens at Allied after February 1, however. A third brother, 62-year-old Douglas McLaren, continues as part owner and as the company's Electrical Superintendent. His sons, Jason and Marcus, will also remain with the company, as will Jim McLaren's son, Ward.
Read more (Background Information)